FBackup
Gratis backup-program
About FBackup
Short overview of FBackup
FBackup har et enkelt brukergrensesnitt, og leder deg gjennom prosessen med å definere en backup-jobb med en hjelpsom veileder som spør deg:
Hvor vil du lagre backupen (lagringssted).
Hva vil du ta backup av (kildefiler/mapper).
Hvordan vil du kjøre backupen (full backup som pakker filene, eller speilet backup uten pakking).
Når vil du kjøre backupen (du kan planlegge automatisk kjøring, eller kjøre manuelt).
Så snart backup-jobben er definert kan du kjøre den manuelt ved å klikke Backup-knappen (eller F6), eller hvis du definerte en tidsplan så vil den kjøre automatisk. FBackup kan enkelt ta backup av filer/mapper fra lokale stasjoner (inkludert tilkoblede USB-stasjoner), til destinasjoner koblet via USB/Firewire, eller koblede nettverksstasjoner. Det opprettes enten zip-komprimerte filer (ved full backup), eller eksakte kopier av originalfilene uten komprimering (ved speilet backup).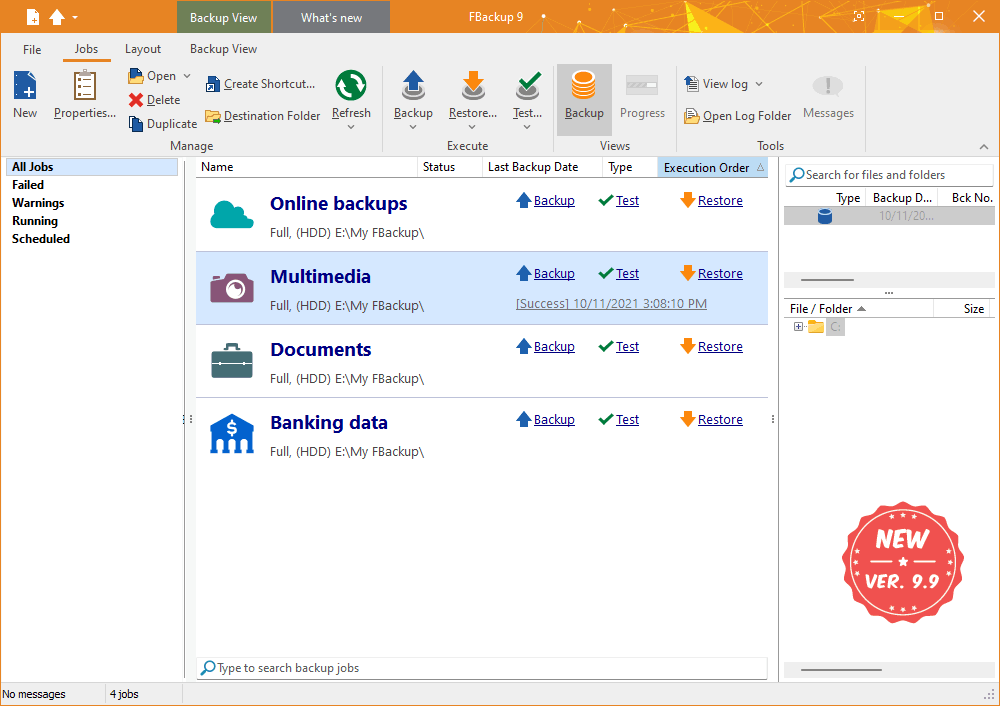 Main Features
What makes FBackup stand from the crowd
Kjøre prosesser før/etter backup.
For hver backup-jobb kan du definere en oppgave som skal utføres før eller etter backupen. Som et eksempel; du kan sette en "Slett backup" aksjon før backupen kjøres, slik at alle tidligere backupfiler vil bli slettet før nye lagres. Som en aksjon etter backup kan du sette maskinen i ventemodus, logge av, gå i dvale eller til og med slå av maskinen når backupen er vellykket avsluttet.
Eksakte kopier av filer.
Om du ikke ønsker å lagre filene i et zip-arkiv, kan FBackup lage eksakte kopier av kildefilene. Siden FBackup også tar backup av tomme mapper, kan du bruke denne backuptypen til å opprette et "speilbilde" av originalfilene på backup-stasjonen.
Lett å bruke.
De to hovedfunksjonene i et backup-program er å ta backup av og gjenopprette data. FBackup gjør det enkelt for deg, med en hjelpsom veiviser. Du starter en ny backup veiviser, velger hva, hvor, hvordan og når backup skal tas, og backupen er klar til å kjøres. Hvis du må gjenopprette filer, åpner du en veiviser som vil spørre deg om hvor filene skal plasseres.
Automatisk oppdaterinng.
FBackup ser automatisk etter oppdateringer ukentlig, så du får beskjed når en ny versjon er utgitt. Opsjonen for å se etter oppdateringer kan deaktiveres, men vi anbefaler å ha funksjonen aktivert, slik at FBackup alltid er up-to-date.
Flere backup-destinasjoner.
Som standard er lagringsstedet for backuper satt til den lokale windows-partisjonen. For å være trygg på å ha en sikker backup, behøver du å lagre backupene på en annen destinasjon, understøttet av FBackup (som en ekstern USB-/Firewirestasjon, eller på en nettverksstasjon). Dette sikrer deg, i tilfelle maskinfeil, at du har data lagret på et eksternt lagersted.
Backup programtillegg.
Du kan laste inn programtillegg (plugins) for å ta backup eller gjenopprette spesifikke programdata/innstillinger eller andre egendefinerte data (som lagring av spilldata, e-post, etc.). Når de er lastet i FBackup, vil disse programtillegg sørge for at riktige filer tas backup av i en forhåndsdefinert liste for det enkelte program. Du kan se en liste over alle tilgjengelige programtillegg her: .
Ta backup av åpne filer.
Hvis en fil er i bruk av et annet program når det skal tas backup, vil FBackup likevel kunne ta backup av filen, fordi det brukes Volume Shadow Service, som er en tjeneste i Windows. Dersom du bruker Windows 10, 8, 7, Vista, XP, Server 2019/2016/2012/2008/2003 (32/64-bit), vil FBackup ta backup av åpne filer. Som et eksempel; det vil være mulig å ta backup av Outlooks e-post og innstillinger uten å avslutte Outlook først.
Flerspråklig.
Du kan velge menyspråk fra en rekke tilgjengelige språk. Hvis du vil hjelpe oss å oversette nettstedet eller menyspråket til et annet språk, kan du besøke siden .
Backup open files
If a file is in use by another program at the time of the backup, FBackup will still be able to back up that file, because it uses the Volume Shadow Service that Windows provides. So, as long as you're using Windows 10, 8, 7, Vista, XP, Server 2019/2016/2012/2008/2003 (32/64-bit), FBackup will back up those open files. As an example, you will be able to back up your Outlook emails and settings without closing the program first.
Online sources
Starting with FBackup v9, it is now possible to use as sources files/folders from online locations. You can add sources from Dropbox or Google Drive and have those backed up to a different destination. This way you can have a back-up of your online files as well. It is a great way to protect your cloud files, for instance backing-up your Dropbox files to Google Drive (or vice-versa).
Backup & Restore Wizards
FBackup includes a step-by-step wizard with instructions to create a new backup job by selecting Where, What, How and When to backup. It also includes a wizard for restoring files. You can quickly restore the latest version of a file/folder as well as restoring versions of files backed up at a specific date.
Backup Catalog File
FBackup stores a summary snapshot of the file and folder information into a backup catalog file (".fkc") each time a backup runs. This catalog is stored in a different file than the backup itself and is used to keep track of backed up data. The advantage of using a catalog is faster backup execution and no 3rd party interference.